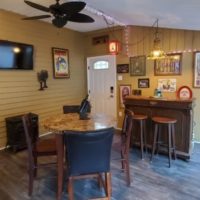 Florida Room
This room is an all season room with an electric fireplace to keep warm. It has a bar, pub table and chairs and a couch and television with glass doors leading to the backyard with fenced in privacy looking up to the breathtaking, Switchback Trail.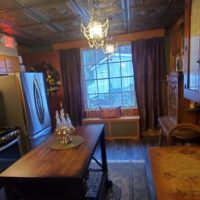 Kitchen
The kitchen was also kept original with the exception of a new floor. All of the cabinets are original, as well. The refrigerator and microwave are available for the guests to use, as we didn't want to put a small refrigerator in each room to ruin the ambiance of the bedrooms.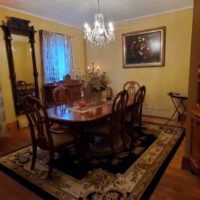 Dining Room
The dining room is very beautiful and formal located outside of the kitchen area with a large table and seating enough for 8 guests. It has a beautiful antique, crystal chandelier over the table. There is an Alexa device on the buffet table to check weather or add some music to the elegance of this room.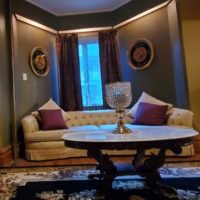 Living Room
The living room offers an array of different seating, a large flat screen 55-inch television, a gorgeous electric fireplace for ambiance/heat located in the center of the house. It is a very private and large area for guests to sit and gather with antique, comfortable furniture and furnishings, handpicked by the Owners.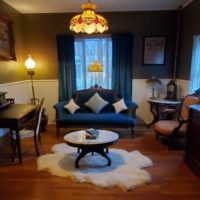 Library
The library offers a beautiful space with a desk, antique furniture and book case for the guest that needs a work space/privacy or simply to read a book from the bookcase! We have different books to read about the town history. The beautiful original French doors add to the privacy from the living room and the hallway/coffee bar.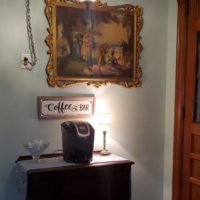 Coffee Bar
The coffee bar is located in the hallway at the bottom of the staircase. It offers different coffees, tea, hot chocolate, cappuccino any time of the day for the guests.